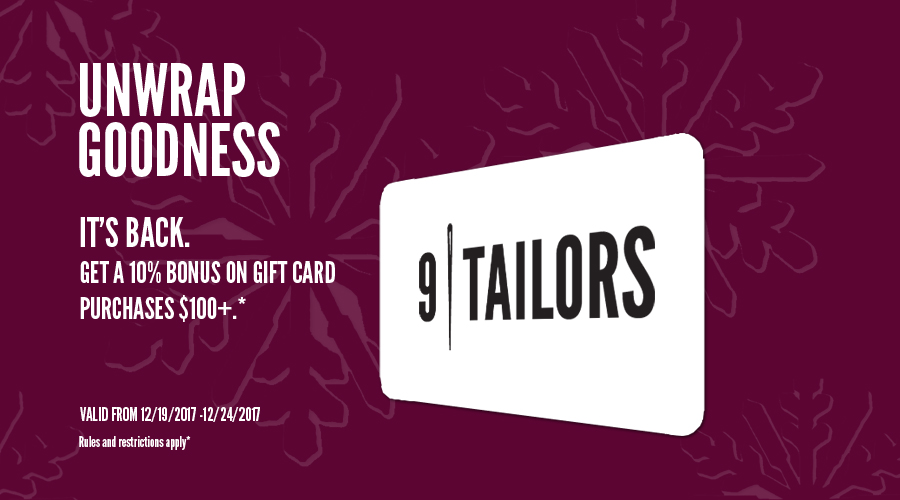 Gift card bonus days are back, but for a limited time only. When you purchase a gift card (purchase here) between December 19 and December 24, 2017, you'll receive a separate bonus e-gift card for 10% of the gift card value.
Many want to know what's an ideal amount to give since you can give any amount to your loved one. Generally, for a custom shirt, we suggest giving $100.00 to $150.00. For a custom two-piece suit, we suggest a gift card that starts at $600.00.
For our gift card bonus, you'll just need to purchase a gift card that is at least $100.00. We'll send you the 10% bonus gift card (bonus gift card valued up to $100.00) separately in your email.
We'll be off December 23 – December 25 and again, December 30 – January 1. If you have any questions, you can email us at info@9tailors.com or call us at 617.286.6135.
Some more rules and restrictions for our gift card purchase:
Gift card purchase can be made online, in person, over the phone or email.
Bonus gift card will be delivered separately to the gift giver's email.
Gift card value must be a minimum of $100.00.
Bonus gift card value is capped at $100.00.
Does not apply to past gift card purchases.
Valid for gift card purchases made between 12/19/2017 through 12/24/2017 at 11:59 EST.
Other sales or promotions do not apply.
Cannot be redeemed for cash or cash equivalent.
If initial gift card is refunded, the bonus gift card will be voided.