FACT: You need to expand your whisk(e)y palate.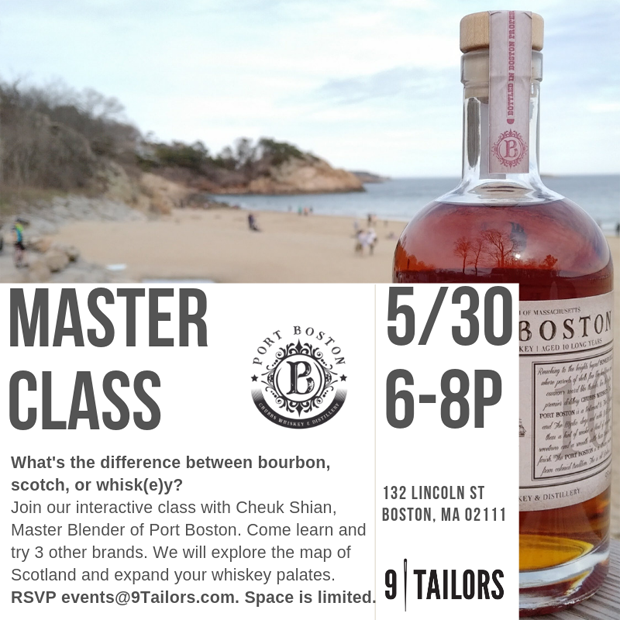 Personally, I am a rum drinker. Blame it on my sweet tooth or my Caribbean blood. You are lucky if you prefer other brown liquors such as scotch and whisk(e)y. So, we've designed a event to bring a little culture to your life. On Thursday, May 30 from 6PM to 8PM, we invite you to join us for an interactive class with one of Boston's Master Blenders. You'll learn the history and taste a selection from around the world. The class is free, but space is limited. RSVP at info@9tailors.com.
To give you you a little preview of what to expect…
My knowledge of menswear or men's tailoring has expanded at 9Tailors, and so has my familiarity with brown liquors. Here's what I learned this far: "Scotch" is typically distilled and bottled in Scotland with a minimum age of 3 years in oak barrels with malted barley as the one ingredient. In the USA, whiskey is made from a number of ingredients including corn, malted barley, rye, and wheat. In order for a whiskey to be called  "Bourbon," it has to contain at least 51% of corn in the whiskey recipe. A majority of the Bourbon produced in the US are from Kentucky and Tennessee. Canada also produces Rye Whisky, but they spell it without the "e". Therefore it's Whisky. Irish Whiskey and Japanese Whisky are aged in oak for a minimum of 3 years. Confused yet?
No worries, I asked Master Blender Charles Shian for 5 scotch or whisk(e)y brands that a modern person should have in stock at home or at the office (maybe you're about that life).
Master Blender Charles Shian recommends:
Type: Scotch
Name: The Balvenie Doublewood, Aged 12 years
Description: This is a very good beginners dram for the novice drinker. It is light with lots of fruity/sweet flavor profile. At about $50 per bottle, it is a very good value and is at the lower end of the price spectrum while providing lots of flavors and smoothness that you pay a $75 or $100 for a bottle.
Type: Scotch
Name: Caol Ila 12, Aged 12 years
Description: This distillery is located on the Isle of Islay, in the western part of Scotland. It is the largest distillery on the island where their flavor profiles tends to be more on the smoky or peaty side. It is definitely more of an experienced drinker's dram, but the flavor profile of a medicinal nature attracts the serious Scotch drinkers who wants a more full flavor profile with strong character in their drinks. Priced reasonably well at around $65 per bottle.
Type: Scotch
Name: Talisker 10, Aged 10 years
Description: Located at the extreme northwestern coast of Scotland, it is the only distillery on the Isle of Skye, which merits a full day's trip for a site visit. This dram is a bit on the spicy, peaty and salinous side on the flavor profile spectrum. It is quite unique and provides a different flavor profile for those looking for something aside from sweetness. This is not meant for the daily drinker, definitely worth a try to stimulate your taste buds from time to time. It's an especially good value considering this bottle can be obtained from about $40.
Type: Bourbon
Name: Eagle Rare 10, McKenna 10 (BIB), Aged 10 years
Description: Both are excellent bourbons. For about $30-$35 a bottle, this aged bourbon is a total steal. The McKenna 10 has risen in price since it won 2019 whiskey of the San Francisco Spirits Awards. But, we think it's still a good value bourbon to stock up on if you are able to find it.
Type: Bourbon
Name: Knob Creek Barrel Proof, Aged 9 Years (or 14 yr Single Barrel Store Pick)
Description: This is a really good value Bourbon for about $40-$45 a bottle. At 120 proof or 60% ABV, it is a high strength whiskey that is very drinkable neat. It's also delicious with a few drops of water to bring out the aromas and additional flavors of the bourbon. You'll drink a little less of it, but still get the same buzz from a typical pour.
Want to learn more? Sign up for our Whiskey Master Class with Charles Shian, Thursday, May 30th at 6-8PM at the 9Tailors showroom (132 Lincoln Street, 1L, Boston, MA 02111).